You can read about Alexis's reaction to learning we were going to Disney
here.
Alexis has her balloon and we are off again. We get just past the shops on Main St and a parade comes out of no where. I'm pretty sure Alexis's mind was blown by now. I mean a show, a Mickey balloon, and a parade in less than 30 minutes. She was into the parade some, but mostly she was hungry. Our favorite place to eat there is The Crystal Palace. It's a buffet style restaurant where Pooh, Piglet, Tigger, and Eeyore come around and visit your table. They come around one at a time and rotate through the tables, visiting the kids, and you can take your photo or kids photo with them. The food was great. There's Pooh's Corner for the kids with mac-n-cheese, chicken nuggets, etc. a nice salad bar, who am I kidding I wasn't there for the salad, many choices for adults and delicious desserts. It is pricey, pricey for us, but so so worth it. I do suggest going for lunch, it's about $29 per adult for lunch and $40 per adult for dinner, 2 and under were free.
We're sitting at our table and I show her Pooh in the distance. He wasn't coming our way, but I wanted her to see him. The first to come around was Eeyore. I see Eeyore coming and I'm thinking, "how is this going to go? Will she freak out and be scared, will she be fine, will she even care. I just hope she's not hysterical if she gets frightened." She sees him and is watching him as he's coming around, making his way to our table. She's in her high hair, has never been close to one of the characters before, and he comes up and gets down on her level. Which was great! I let her see him and then I took her out so she could get closer and I could get her photo with him. She gave him a hug and didn't want him to go. I was glad she liked it. She has never been a scared baby or person in general. She doesn't like loud noises though. I think piglet was her favorite. He played peekaboo with her with his ears and she did it back. Piglet also got down on her level. There was a little parade that they do and ask the kids to follow the characters around the room. It's cute and less time standing in line for characters later. We never got to Pooh, but Tigger came around and was more interested in Jon than Alexis. She wanted to bounce with him, but I don't think he wanted too and kinda waved and moved on. We were done and Lexi was way done with sitting, so off we went.
v
From there we really just let Alexis walk around and see things. She was so tired of sitting that I didn't want to make her do things. She stopped to play with the bubbles, there was a mechanical camel spitting water that she was crazy over. We thought we would take her to Fantasy Land where she can play. The best way we thought was to get on the train. There was no ramp for the stroller. My mom and I carried it the whole way up the steps. And last minute we were folding it, trying to get coats out and water bottles out of the basket because it wouldn't fold up with them in it. It was a sight, I think it held up the train.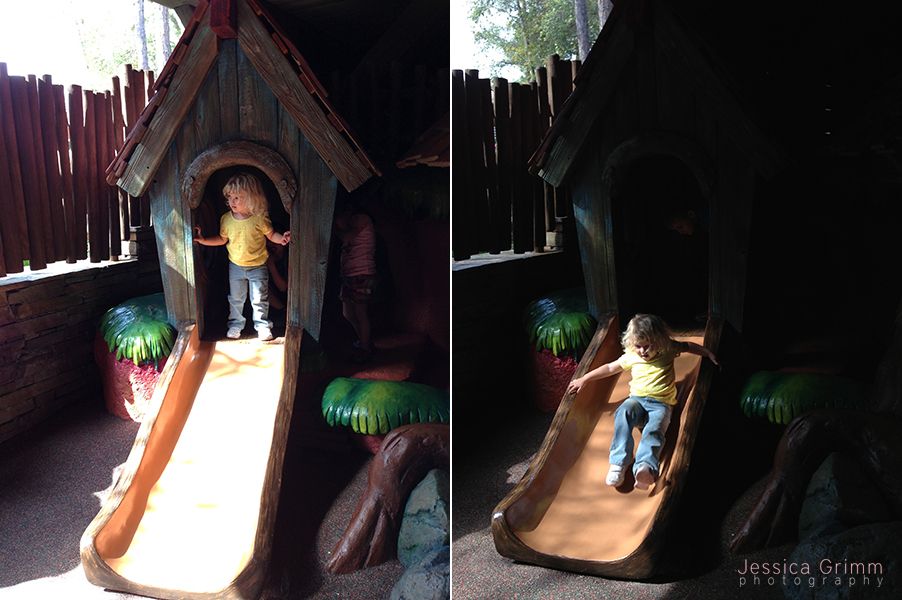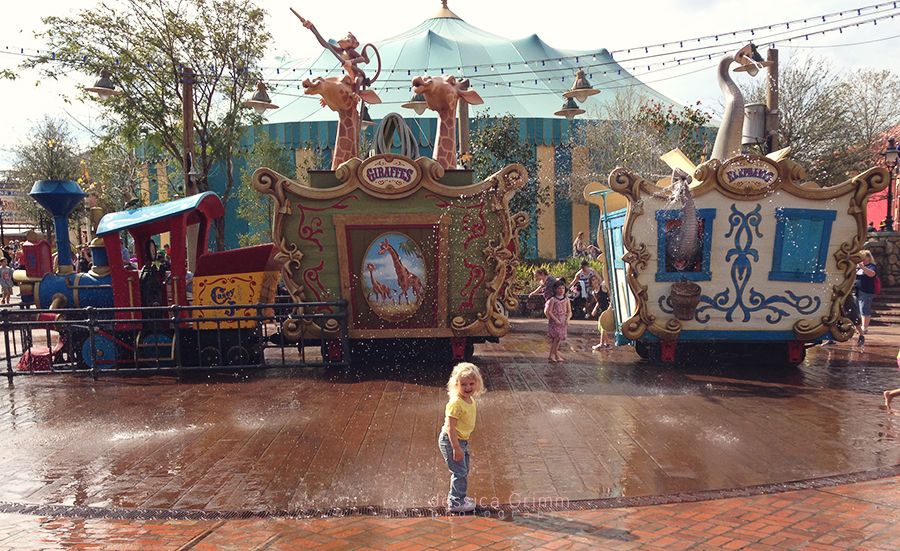 Fantasy Land was perfect for her. Right away she noticed the little circus area that was a water area with the animals shooting water everywhere. I brought extra clothes just incase, just for this. So we let her run around in her clothes, getting soaked and having a blast, til her jeans got too heavy and then she ran around in her diaper. She played for a good half hour to 45 minutes, then some boy pushed her down and she hit her head really hard on the cement. I will say it was an accident, but why doesn't Disney have the foam pads instead of hard concrete? She was crying in pain, her head had a large goose egg and was bleeding, her nose was bleeding and her mouth was bleeding. We were at the opposite side of the park for first aid, so we grabbed some ice from a nearby souvenir cart and my mom and I took her into the bathroom. She eventually calmed down and was fine. We changed her and moved on from the water. She saw the dumbo ride and HAD to go on it. We got a fast pass for that ride. We moved on and used my parent's tickets to get fast passes for the Winnie the Pooh ride. She rode the carousel and by then it was time for the dumbo ride! Jon and Lexi went on it together, talk about cute. I was wondering if she would cry the whole time and want off, but she loved it! Wanted to do it again. But we took her into the gift shop and let her look around, got a snack and went to meet up with grandma and grandpa and uncle Paul in Tomorrow Land.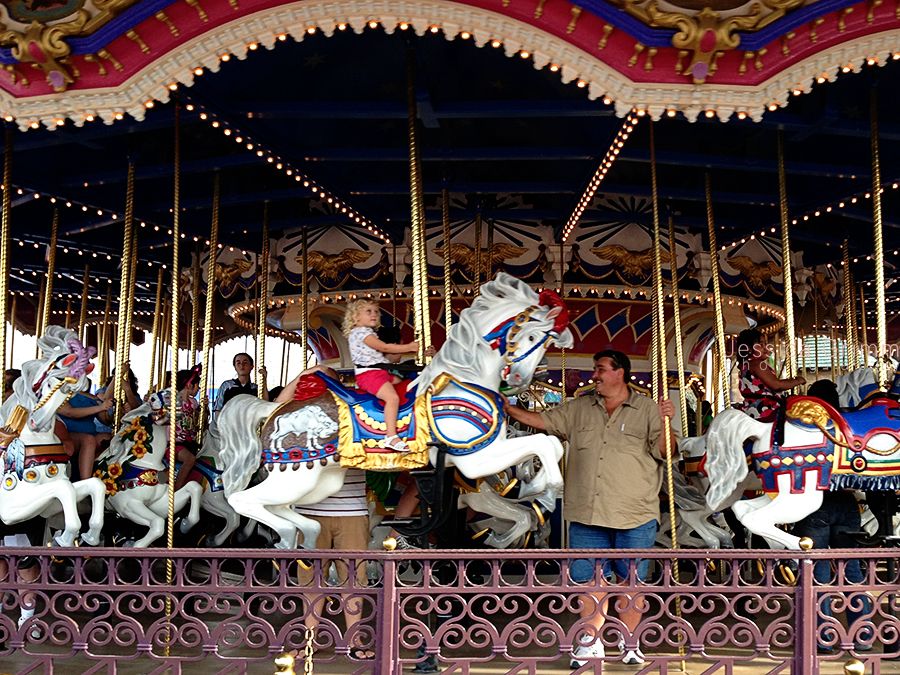 Tomorrow Land was so much fun. They had a stage where a Dj was playing music and people were dancing and kids were dancing. Characters were dancing, it was a lot of fun. Alexis loved the music and it caught her attention. She danced and clapped along. Pluto was dancing in the crowd, we had to point him out to her. Once she caught a glimpse of him, she was in awe and danced with him, gave high fives. I have the video for it. She did the same with goofy, but not as long as Pluto. She noticed bubbles flying next to the stage and that was it, she was done dancing. She played with the bubbles for awhile and then she noticed the people mover and wanted on that. We all took a ride on it. She did really good on it, wasn't too sure about the pitch black areas, but other than that, she liked it. Jon and I took her on Winnie the Pooh ride. That was fun. I really liked that one and so did she.rides weren't a problem, standing in line, waiting was. We took one more carousel ride and then the parade was going to start. I thought she would love the parade because all the lights and characters, but nope she wasn't. In all the fun, we forgot about dinner and she was hungry. Not to mention tired, she didn't rest or nap all day. It was the perfect time to eat, most people are watching the parade, so it was pretty much line free.

After dinner, it was time for the animation show on the castle which was cool, to Alexis is an 'eh' thing. Finally the firework show started and she watched the whole thing, sometimes not willingly, but she enjoyed it, Jon enjoyed it, everyone loved it. By now it was after 8pm, maybe 9 ad it was time to go. I collect the Disney trading pins. I went searching for one that would remind me of the day and picked out a Winnie the Pooh one and got Alexis a small dumbo, that she's been sleeping with.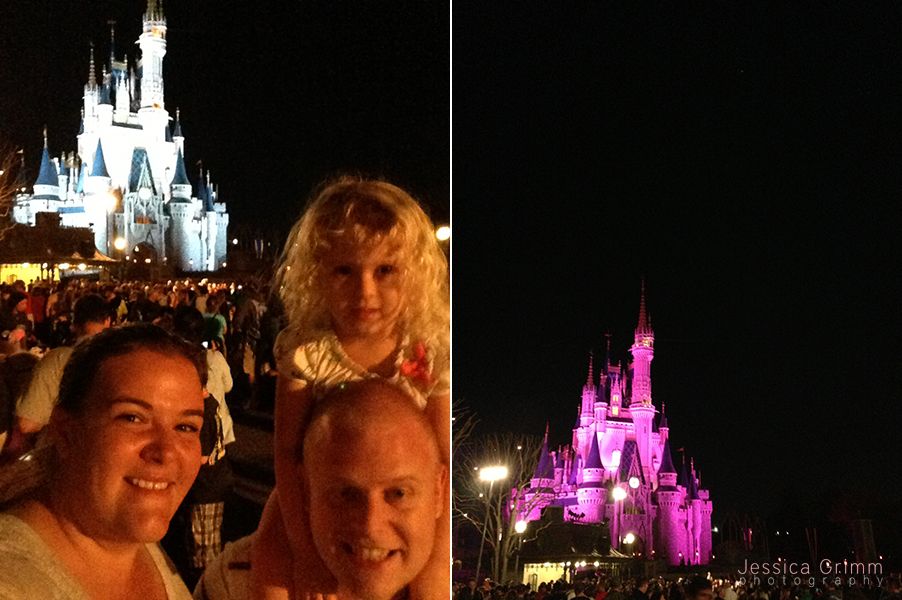 We're on our way out, along with a lot of other people, and we were told the monorail is down. Everyone has to take the ferry or one bus that was designated to drive people to the parking lots. If you had a wheelchair or stroller, you had one choice- the ferry boat. The plan was to take that on the way back anyway, but now everyone had to and the line was looooooong. By now Alexis was asleep already in the stroller, she was out pretty fast. It went fairly quickly, as fast as it could. We walked to our car instead of riding the tram. It was an amazing, memory making day.
To answer my questions from Part 1-
Should I bring a stroller or rent one there?
We brought our own and I'm so happy we did. Otherwise we would have had to carry a sleeping Lexi all the way to the car after. She's over 30lbs and its starting to wear out our backs. Plus, it carried all our things.
What happens if I lose Alexis, besides me panicking?
We didn't lose her, but I was told to write our name and number somewhere on her arm, just incase.
How is she going to react to different scenarios? Like the castle, characters, rides, the crowd, parade, lights at night, etc..
The castle she didn't care about. The characters and rides she adored. The crowd got more on my nerves than anything, a little manners people! The parade and lights, she didn't care about at all.
Are my parents, Lexi's grandparents, going to be able to go with us?
Yes! I'm so glad they did! It made the whole experience for Lexi much more special.
Should I bring my DSLR or just use my iPhone for pictures?
You can probably tell what I decided to use. I only used my iPhone because it was so handy, but I do wish I had brought my DSLR. Even though I would've complained having it, worrying someone would steal it, and being bulky- the pictures would've been so much better! But I still got the memories captured and that's all that matters.
Oh and was the balloon worth it?
Yes! Almost 2 weeks after and it's still flying. Granted its still creepy when I see it at night in the dark. That's like .70 cents a day for that balloon and Alexis still drags it everywhere.
I don't expect anyone to read this whole post, but thank you if you did!