Since Alexis has been born, I have been wanting to take her to Disney World. I don't know if its because it is the epitome of childhood or just because. It had to be at an age that she could enjoy it. W didn't go when she was a newborn, I mean she can't experience it really at that age. I was so excited when this was the year to go and I'm glad we didn't go when she was any younger.
I've been to Disney world countless times, but not in a few years. Jon had only been to Epcot once, ever. Needless to say, he was excited, I was excited, and Alexis could careless. We started her on Disney movies a few months ago. She won't sit long and watch s movie, barely sits and watches a half hour cartoon. The one that she got through almost all the way was Dumbo. We also watched Winnie the Pooh, and all sorts. She's not into the princesses just yet and that's ok by me. There's an innocence about dumbo, Winnie the Pooh and the Mickey Mouse clubhouse, that I'd like for her to hang onto. I'm sure the princess stage will come soon, but there is no rush on my end.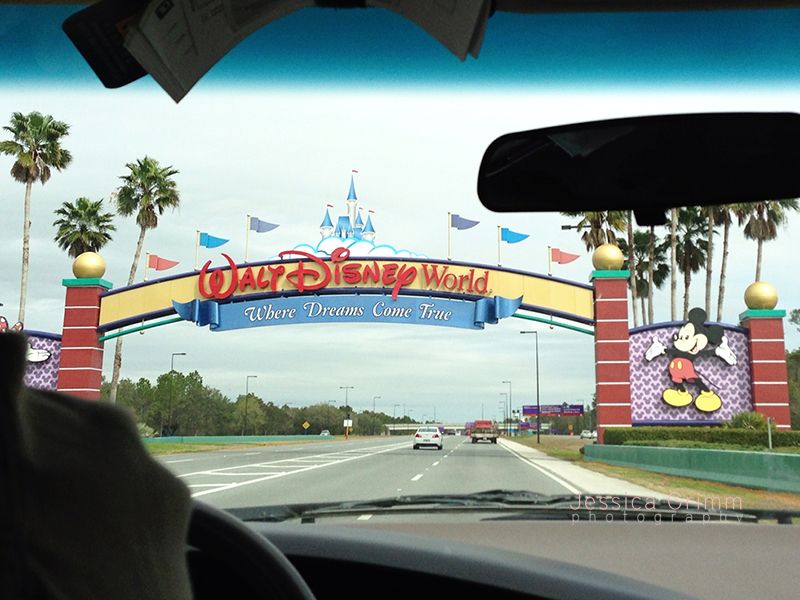 We live an hour away from Disney world, so the obvious choice was yearly passes. We got the weekday select passes. I'd rather go during the week, than a weekend, and it has the last two weeks of June, all of July, and the first 2 weeks of August blocked out. Fine with me, it's too freakin hot to go then away and crowded.
I did have a few concerns, I'm sure that these are normal though.
Should I bring a stroller or rent one there?
What happens if I lose Alexis, besides me panicking?
How is she going to react to different scenarios? Like the castle, characters, rides, the crowd, parade, lights at night, etc..
Are my parents, Lexi's grandparents, going to be able to go with us?
Should I bring my DSLR or just use my iPhone for pictures?
I will say the MOST fun you will have at Disney is living it through a child's eyes.
The morning of, I went and got Alexis out of bed. I asked her to guess where we were going today and her response was "Bailey's!" (Her friend). I told her no that we were going to Disney to see Mickey Mouse. She didn't really understand though. All she knew was grandma and grandpa were coming and she got to ride in their mini van (which she can't get enough of). I was so happy my parents were able to go, it made the trip more special to experience Lexi's first disney trip with her. They came and we were off. We arrive to the humongous Disney parking lot and transportation center, get our tickets and Alexis and Jon's first time at Disney buttons, and jump on the monorail to Magic Kingdom. Alexis did great on the monorail, I tried showing her the castle in the distance, but she didn't really care. There was too much going on where we were. Monorail arrives at the magic kingdom and we go through bag check. Earlier, Jon, joking, said watch our tickets not work today. I told him I had checked at it wasn't a black out date. I put my ticket in and the red light started blinking, Jon started laughing saying I knew it. Turns out I just did it wrong.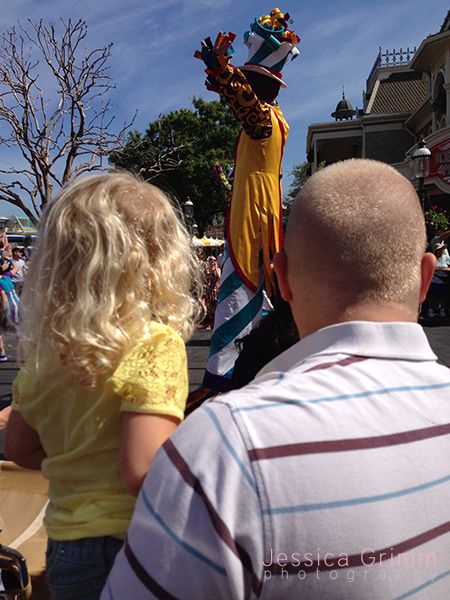 We are now in the park, Alexis was in her stroller eating snacks because by now it was 12pm and we were all hungry, we encounter our first little sing/dance show on Main St in the circle area. It was fantastic timing and Alexis was loving it already. She loves singing and dancing. We keep strolling and 2 minutes in, she's gotta get out of her stroller and experience this place herself. I'm trying to show her the castle, yeah she didn't care. My parents were showing her the things in the windows of the gift shops, at her eye level and she enjoyed that. The next thing that caught her eye was the balloons and it was a must have for her. She was not going on without one. Jon bought her one, it confidently came with a little weight to keep it from flying away. It was $10. I buy clothes for less than that. But no big, it was Disney. Whatever she wanted. I'll tell you why it was worth it at the end of part 2. I'll keep you in the toe curled suspense lol.