The fair is a yearly tradition for us. It's a food smorguessboard (sp?) for us. Even though I never pig out like I say I'm going to. And fried oreos are always a must. Last Wednesday, we headed out to the fair after Jon got off of work early. It was one of the coldest days here so far. I'm posting in 2 parts because not all photos got edited yet.
Last year, Alexis was just over a year old and it's mostly great for her to look at. This year, I thought she would be able to enjoy more. For her, it's mostly about exploring, more than anything. We pretty much just let her walk and we follow. It was really exciting, for me, to see her go on the Merry-go-round and actually want to go on the Merry-go-round. Her first encounter with rides at our town's family days, didn't go over so well and I figured she wouldn't like rides for a while.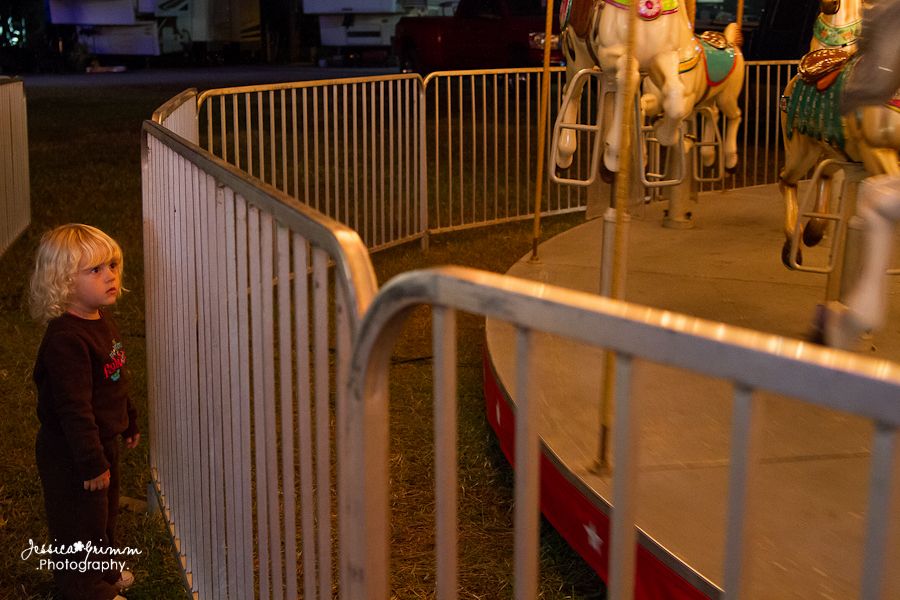 To my surprise and Jon's surprise, she went straight to the Merry-go-round and was just in "Awe" over it, starring and you could see she thought it was the coolest thing ever. After talking it over between Jon and I, asking- should we take her on it? Will she cry and scream til she gets off? Will this scare her?- we decided that she looked so into it, that he would take her on it.
After much debating on where to sit, Jon thought they should sit on the bench, she wanted on the horse, but then she got impatient and they went back to the bench and about half way done, she wanted back on the horse. I think she enjoyed it, although we didn't get many expressions out of her, I could tell she was just taking it all in and it was a new experience for her.
Part 2- Coming Soon!