Thanks for picking my photo Hollie!
We have had a crazy busy weekend. I have been absent. Alexis had a cold, then I got it. She was teething like crazy the last couple nights and we didn't get much sleep. Her top tooth finally popped through, yay! Family has been visiting and they leave today. It's been nice catching up and Sheila loves that she has a bigger family now. All their extended family is on the east coast and they're on the west coast. She never knew her family over here, I'm really happy we all got to meet. Talk about ironic, she lives about 2 hrs away from my inlaws! Now we can visit next time we're there.
These are from the cookout Saturday.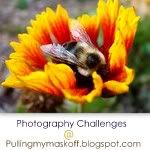 We all tried our best at jumping, no one got off the ground LOL {except one}